Below is an example of the message you see when your Searchanise (Smart Search & Filter) control panel is blocked: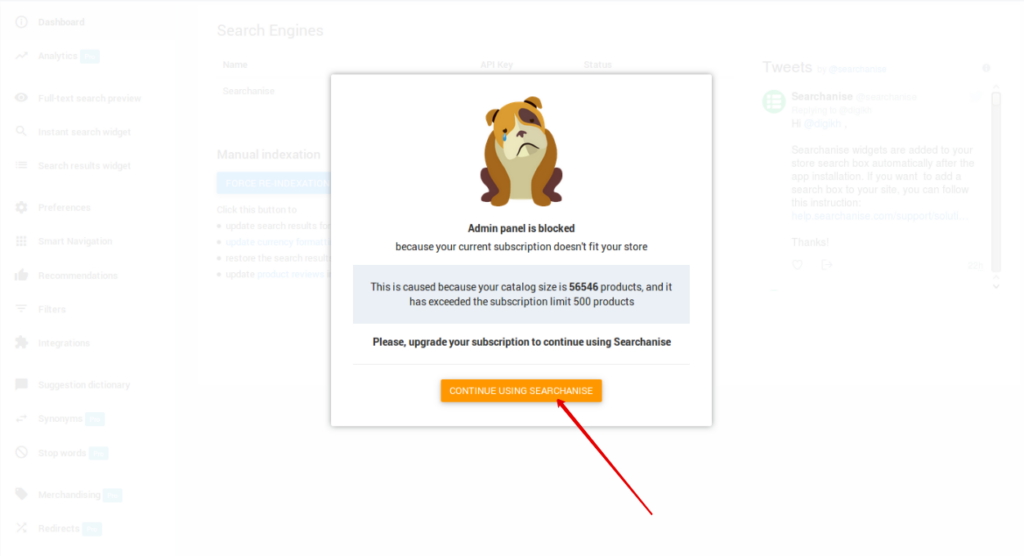 The control panel gets blocked when:
The number of your store's products counted in the subscription plan (indexed products) exceeds its limit.
The discount applied to your stores expires.
You upgrade from Shopify standard plans to Shopify Plus.
To continue using Searchanise, choose one of the following ways:
Click the corresponding button and

 

choose a plan

 

that suits you.
Decrease the number of indexed products. You can find information on which products are counted in the subscription plan in the instructions for your platform here. Searchanise will unblock your control panel after indexing the changes in the products (within 10 minutes for Shopify and almost immediately for other platforms).
Note
Searchanise widgets will still work in your storefront when the control panel gets blocked.
Enjoying your experience with Searchanise?
We'd appreciate it if you could take some time to leave a review. To do so, follow the link to your respective platform below: